Mike Kupka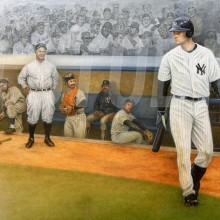 We are excited to now offer local renowned artist, Mike Kupka at the Thomas Kinkade Gallery of New Jersey. Mike is from New Jersey and graduated from the duCret School of Art under the guidance of distinguished illustrator, Peter Caras.
Mike's paintings capture more than a likeness of the celebrities and athletes he depicts. He brings together all the ingredients necessary to make an illustration work. His use of color and composition bring his paintings to life, which is why he captivates the eye of respected art critics, as well as sports and celebrity enthusiasts.
Mike's impressive portfolio includes work for Disney, Lucas Films and the NHL and he was recently voted US Art Magazine's "25 Artists You Should Know". We are proud to be able to offer his extraordinary work to our collectors.
Showing 1–12 of 25 results