Description
In the Passport to Adventure series by Thomas Kinkade Studios, Disney's Mickey Mouse and Minnie Mouse, along with some of their closest friends, explore famous travel destinations around the world. This time Mickey and friends are visiting a Pueblo Mágico in Mexico.
In Disney Mickey and Minnie in Mexico by Thomas Kinkade Studios, we find the pair dancing to a tune carried by a gentle breeze blowing through the colorful papel picado as Goofy and Daisy Duck happily cheer them on. Donald Duck has headed back from a morning of fishing, with enough to provide a feast for all. However, Pluto appears to prefer the sweets in the candy store to Donald's catch. Always ready for fun, the sombrero-wearing Chip and Dale look down on el pueblo, eager to start a new adventure.
Key Points
Disney Mickey and Minnie in Mexico is the 8th painting in the Passport to Adventure series. Other beautiful destinations where the pair and their friends have been featured include Hawaii, Hollywood, Paris, Ireland, the Alps, the Australian Outback, and Greece.
Music, flowers, and papel picado are essential to celebrations in Mexico, and Mickey Mouse, Minnie Mouse, and their friends are getting ready for a fun fiesta in this painting.
Traditionally, papel picado is hung on homes and across streets. The vibrant colors, styles, and patterns are customized to symbolize the type of celebration.
Mickey Mouse is festive in his colorful poncho, and Minnie Mouse looks adorable in a Mexican dress featuring her signature polka dots.
Goofy's cart is full of handcrafted Mexican wares, including basketry, piñatas, and sombreros.
Estate Edition Sketch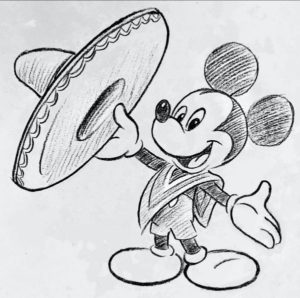 Here is the E/E sketch for Disney Mickey and Minnie in Mexico.
Edition Features
Textured Brushstroke Process
Additional Highlighting
Small Edition Size
Authorized Signature In Silver
Unique Hand-Drawn Sketch On The Back Of The Canvas